Artist Profile: Lisa Vollrath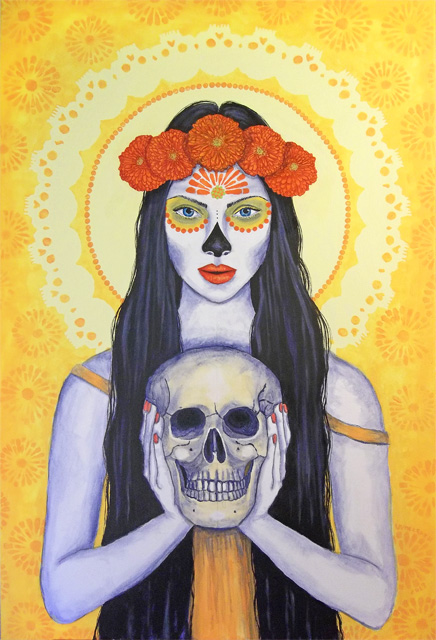 I thought it only fair that if I'm going to ask other artists to answer a bunch of questions, I should answer them myself. So, this is me, acting as the artist profile guinea pig:
Describe the type of art you make.
I do a lot of different types of work. Right now, I'm focused on painting, but I also do art journaling, altered books, assemblage pieces, and pretty much whatever else I feel like doing. I paint mostly women, and I have a large number of Day of the Dead pieces.
How long have you been making art, and how did you get started?
I've been one type of artist or another since I was a kid. I started out as a musician and a singer. I acted a bit in college, and studied costume design. I have an MFA in design. If it's creative, I've probably done it at some point.
What inspires you to create?
Truly? My creativity is what pays the bills, so the calendar inspires me. If bills are coming in, I have to make sure I'm doing something that will generate the money to cover them. That could be writing, or painting, or developing a class. I've always got my eye on the calendar. It's a powerful motivator!
I'm also intensely visual. I can stare at art for hours. I'm one of those people who stands in front of a Rothko for 20 minutes, letting myself get sucked into whatever feelings it elicits. I feel so inspired whenever I go to a museum or gallery, but I'm just as inspired by working in my garden, and being in nature.
What does being an artist mean to you?
That's sort of like asking what does living on the planet Earth mean to you. I really can't say, because I've been doing it my whole life, and don't really have anything to which to compare it. Being an artist is like breathing. It's like opening my eyes in the morning. It just is, and I don't question that.
What do you do when you're blocked?
I give myself permission to take the afternoon off. Or the whole day. It's one of the few perks of being self-employed: when I'm not feeling it, I can walk away for a few hours. I tend to go outside, or watch a movie. It never lasts too long.
What kind of art do you enjoy?
Right now, I'm sort of obsessed with poured acrylic paintings. I think I'm drawn to things that are abstract, but I'm pretty much up for any type of art. I'm lucky to live in an area that has two great museum districts, and tons of galleries, so there's always something to see. I'm just as happy staring at Impressionist portraits as I am at Kara Walker silhouettes, or massive works by Kehinde Wiley. Whatever's showing, I'll show up for it.
What words do you have for artists who are just starting their journey?
Tell your inner critic to fuck right off. Don't let the noise, inside or out, stop you from doing whatever satisfies you creatively. Try new things, and don't be afraid to fail. In fact, fail at them hard, because there's something to be learned from every failure. And get a pair of comfortable shoes, because being an artist can be hard on your feet.
Tell me something silly about yourself.
My hair is drop dead PINK. Not baby pink. Seriously, hurts your eyes when the sun hits it PINK.
You can see more work on Facebook, Instagram, my web site, and Patreon.