The Mixed Media Club Blog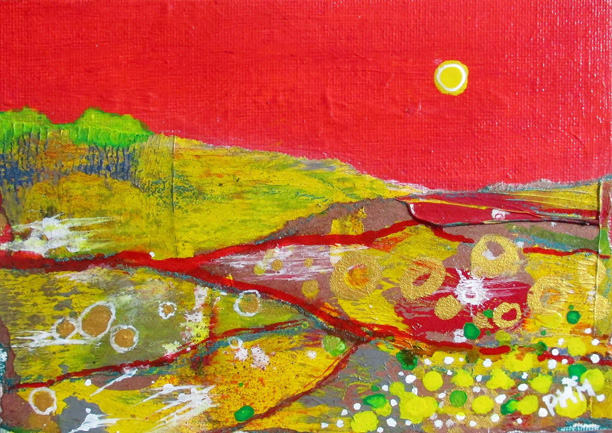 Describe the type of art you make.
I have been working on a series of mixed media, semi-abstract, collage style landscape paintings over the past year. These works are based on my love of the Scottish countryside and a fascination with the patterns and colours that can be found in rural landscapes.
In making these works, I begin with random 'mark making' on sheets of paper using acrylic paint, acrylic inks, inks, oil pastels, crayons and chalks. I use rollers, brushes, forks, palette knives, or anything that will make an interesting mark on the mediums. Sometimes I sandpaper soft pastels into a pool of colour. Often I drip paint or ink onto the paper and let it run. I may squeeze out a few lines of different coloured paints and use a printing roller to merge them and create textured patterns. I might simply throw or splatter paint on the surface. The important thing in this stage is that everything is wild and random.
When these papers are dry I rip them into pieces of varying sizes. I then paint a sky on canvas using a bold colour or metallic paint. The ripped papers are then assembled on the canvas in ways that suggest a landscape: mountains, hills, valleys, fields and so on. Often, coloured tissue papers are added. At this point I have no idea how the final piece may look other than I know it will be a landscape. This stage can take many hours.
Once the basis of a pleasing composition is achieved, the pieces are glued to the canvas and then the last and most important stage takes place. Using more medium, in both controlled and random ways, the artistic challenge is to create depth and interest in the work.
How long have you been making art, and how did you get started?
I have been making art for most of my life. I studied art at high school and was encouraged to apply for Art School further education, but my parents blocked that as an option. However, the urge to create never left me and throughout my life I have painted and attended summer schools and part-time classes whenever I could. A few years ago I took early retirement and took part time classes over a period of some 4 years and began to show and sell my work with some success. More recently, I began collage painting after attending a masterclass on expressive landscape painting and I am now hooked on this technique. I have sold several of these works both privately and via commercial galleries nearby where I live. My aim is now to seek a wider audience for my work.
What inspires you to create?
I am an art junkie, with a house full of pieces collected over many years, and loads of art books and journals. I love to visit art exhibitions. Art just seems to be part of my DNA. I am also a self motivated, workaholic so it doesn't take much to get my muse moving although a little bit of David Bowie or Philip Glass can help. I am inspired by many, many artists, most notably David Hockney, Francis Bacon, Paulo Rego, Barbara Rae and Duncan Shanks.
What does being an artist mean to you?
What being an artist means to me is that I am someone who 'observes and digests' colours, patterns, the effects of light and the sheer beauty of the world around me. My aim is to capture the mood, the light and the colour of beautiful places I have seen. I am not a political artist. My aim is simply to share my love of the natural world with others through my work.
What do you do when you're blocked?
When blocked, I tidy my wee studio and go through photographs I have taken. Sometimes I pull out unfinished works and reassess them. Before long, I end up reworking something or starting something new.
What kind of art do you enjoy?
My favourite kind of art is painting. I particularly like free, expressive and colourful landscapes and portraits.
What words do you have for artists who are just starting their journey?
Be determined, believe in your abilities and keep experimenting.
Tell me something silly about yourself.
I often tell people I am not going to die!
Anything else you'd like to tell me about yourself or your art?
I live in Scotland near the Loch Lomond and Trossachs National Park so never have to venture far for inspiration