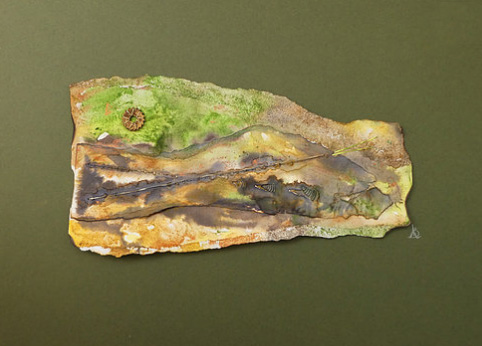 Describe the type of art you make.
Abstract mixed media, with an emphasis on collage.
I let the materials talk to me, allowing my hands to shape feelings and thoughts by instinct. The result is work that has that textural feel. I also pick up metallic objects found lying in the street. I love the way the metal rusts and scratches, and now incorporate these in my some of my work.
How long have you been making art, and how did you get started?
I've always drawn and had art as part of my life, but only in the last 2 years have I started to sell my work. Largely self-taught, I have taken courses at various times specialising in particular aspects: watercolour about 20 years ago, acrylic and textile art courses after I stopped work 4 years ago. I am currently enjoying a course on drawing and mixed media, which is where I've found my true home.
What inspires you to create?
Landscapes, light and shadow, buildings and items that have deteriorated in some way.
Artists that inspire me are strangely very different to what I do. Anthony Green RA is one whose work I've admired since I was at school. He uses perspective differently from anyone else and rarely makes square pictures. His work made me realise that art didn't have to fit in a rectangle and be what you saw. That said, I think I was also influenced, albeit subconciously, early on by surrealist painters like Dali and Magritte, who again did not paint directly what they saw. More recently, I love the work of Cornelia Parker and Jim Lambie. Georgia O'Keefe I only discovered after I had done some close up acrylics of flowers and someone likened them to her work, which I now love. Shirin Neshat's Turbulent moved me like nothing else I have experienced.
What does being an artist mean to you?
Being an artist means being able to do what I love and invite others to share it. It allows me to give voice to the world around me and reuse discarded objects.
What do you do when you're blocked?
I have never been really blocked, but there are days when I don't feel like doing artwork. I make a rule that I have to do at least one thing to do with art each day. It doesn't have to be a big thing. It could be simply reading an article. But I have to do one thing. After a while that one thing leads to another, which leads to another and so on.
What kind of art do you enjoy?
I enjoy contemporary and abstract art, both 2D and sculpture. Although I can appreciate the technical ability of the old masters, they don't move me the same way something from Cornelia Parker or Georgia O'Keefe can.
What words do you have for artists who are just starting their journey?
Do something no matter how small every day. Also, put yourself out there. People buy into you as much as your art, so be prepared to put on a show.
More of Audrey's work can be seen on her web site, on Instagram, and on Facebook.