Here's a quick art journal flip through from Hijuhbi:
I like this book, because there's a lot of variety in it. Lots of ideas for different ways to fill pages.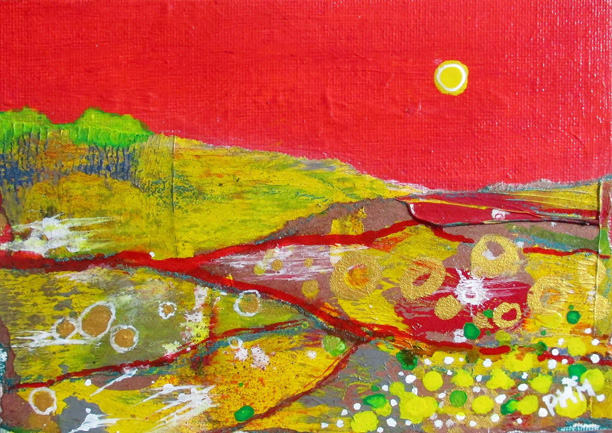 Describe the type of art you make.
I have been working on a series of mixed media, semi-abstract, collage style landscape paintings over the past year. These works are based on my love of the Scottish countryside and a fascination with the patterns and colours that can be found in rural landscapes.
In making these works, I begin with random 'mark making' on sheets of paper using acrylic paint, acrylic inks, inks, oil pastels, crayons and chalks. I use rollers, brushes, forks, palette knives, or anything that will make an interesting mark on the mediums. Sometimes I sandpaper soft pastels into a pool of colour. Often I drip paint or ink onto the paper and let it run. I may squeeze out a few lines of different coloured paints and use a printing roller to merge them and create textured patterns. I might simply throw or splatter paint on the surface. The important thing in this stage is that everything is wild and random.
When these papers are dry I rip them into pieces of varying sizes. I then paint a sky on canvas using a bold colour or metallic paint. The ripped papers are then assembled on the canvas in ways that suggest a landscape: mountains, hills, valleys, fields and so on. Often, coloured tissue papers are added. At this point I have no idea how the final piece may look other than I know it will be a landscape. This stage can take many hours.
Once the basis of a pleasing composition is achieved, the pieces are glued to the canvas and then the last and most important stage takes place. Using more medium, in both controlled and random ways, the artistic challenge is to create depth and interest in the work.
How long have you been making art, and how did you get started?
I have been making art for most of my life. I studied art at high school and was encouraged to apply for Art School further education, but my parents blocked that as an option. However, the urge to create never left me and throughout my life I have painted and attended summer schools and part-time classes whenever I could. A few years ago I took early retirement and took part time classes over a period of some 4 years and began to show and sell my work with some success. More recently, I began collage painting after attending a masterclass on expressive landscape painting and I am now hooked on this technique. I have sold several of these works both privately and via commercial galleries nearby where I live. My aim is now to seek a wider audience for my work.
What inspires you to create?
I am an art junkie, with a house full of pieces collected over many years, and loads of art books and journals. I love to visit art exhibitions. Art just seems to be part of my DNA. I am also a self motivated, workaholic so it doesn't take much to get my muse moving although a little bit of David Bowie or Philip Glass can help. I am inspired by many, many artists, most notably David Hockney, Francis Bacon, Paulo Rego, Barbara Rae and Duncan Shanks.
What does being an artist mean to you?
What being an artist means to me is that I am someone who 'observes and digests' colours, patterns, the effects of light and the sheer beauty of the world around me. My aim is to capture the mood, the light and the colour of beautiful places I have seen. I am not a political artist. My aim is simply to share my love of the natural world with others through my work.
What do you do when you're blocked?
When blocked, I tidy my wee studio and go through photographs I have taken. Sometimes I pull out unfinished works and reassess them. Before long, I end up reworking something or starting something new.
What kind of art do you enjoy?
My favourite kind of art is painting. I particularly like free, expressive and colourful landscapes and portraits.
What words do you have for artists who are just starting their journey?
Be determined, believe in your abilities and keep experimenting.
Tell me something silly about yourself.
I often tell people I am not going to die!
Anything else you'd like to tell me about yourself or your art?
I live in Scotland near the Loch Lomond and Trossachs National Park so never have to venture far for inspiration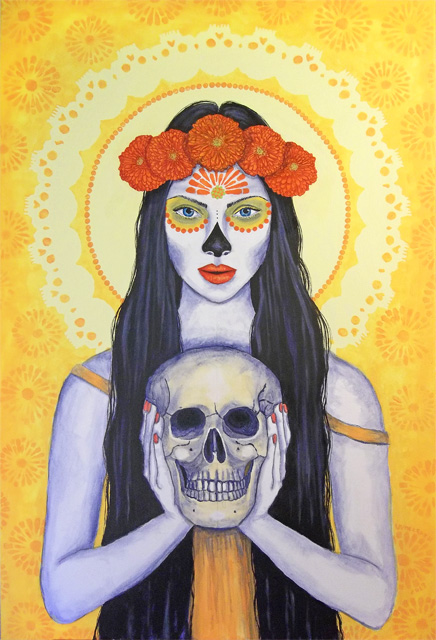 I thought it only fair that if I'm going to ask other artists to answer a bunch of questions, I should answer them myself. So, this is me, acting as the artist profile guinea pig:
Describe the type of art you make.
I do a lot of different types of work. Right now, I'm focused on painting, but I also do art journaling, altered books, assemblage pieces, and pretty much whatever else I feel like doing. I paint mostly women, and I have a large number of Day of the Dead pieces.
How long have you been making art, and how did you get started?
I've been one type of artist or another since I was a kid. I started out as a musician and a singer. I acted a bit in college, and studied costume design. I have an MFA in design. If it's creative, I've probably done it at some point.
What inspires you to create?
Truly? My creativity is what pays the bills, so the calendar inspires me. If bills are coming in, I have to make sure I'm doing something that will generate the money to cover them. That could be writing, or painting, or developing a class. I've always got my eye on the calendar. It's a powerful motivator!
I'm also intensely visual. I can stare at art for hours. I'm one of those people who stands in front of a Rothko for 20 minutes, letting myself get sucked into whatever feelings it elicits. I feel so inspired whenever I go to a museum or gallery, but I'm just as inspired by working in my garden, and being in nature.
What does being an artist mean to you?
That's sort of like asking what does living on the planet Earth mean to you. I really can't say, because I've been doing it my whole life, and don't really have anything to which to compare it. Being an artist is like breathing. It's like opening my eyes in the morning. It just is, and I don't question that.
What do you do when you're blocked?
I give myself permission to take the afternoon off. Or the whole day. It's one of the few perks of being self-employed: when I'm not feeling it, I can walk away for a few hours. I tend to go outside, or watch a movie. It never lasts too long.
What kind of art do you enjoy?
Right now, I'm sort of obsessed with poured acrylic paintings. I think I'm drawn to things that are abstract, but I'm pretty much up for any type of art. I'm lucky to live in an area that has two great museum districts, and tons of galleries, so there's always something to see. I'm just as happy staring at Impressionist portraits as I am at Kara Walker silhouettes, or massive works by Kehinde Wiley. Whatever's showing, I'll show up for it.
What words do you have for artists who are just starting their journey?
Tell your inner critic to fuck right off. Don't let the noise, inside or out, stop you from doing whatever satisfies you creatively. Try new things, and don't be afraid to fail. In fact, fail at them hard, because there's something to be learned from every failure. And get a pair of comfortable shoes, because being an artist can be hard on your feet.
Tell me something silly about yourself.
My hair is drop dead PINK. Not baby pink. Seriously, hurts your eyes when the sun hits it PINK.
You can see more work on Facebook, Instagram, my web site, and Patreon.