Looking for some ideas for your summer projects? Here's a list of words, quotes and expressions that might inspire your next hot idea: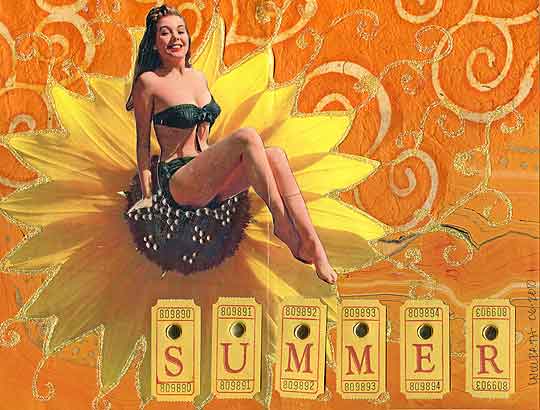 Summer afternoon—summer afternoon; to me those have always been the two most beautiful words in the English language. —Henry James
The summer night is like a perfection of thought. —Wallace Stevens
Summertime is always the best of what might be. —Charles Bowden
'cause a little bit of summer is what the whole year is about. —John Mayer
Oh, the summer night,
has a smile of light,
and she sits on a sapphire throne.
—Bryan Procter
You are so much sunshine in every square inch. —Walt Whitman
Live in the sunshine.
Swim in the sea.
Drink in the wild air.
—Ralph Waldo Emerson
Ah, summer, what power you have to make us suffer and like it. —Russell Baker
10 things to love about summer
2 hot
A bright, sun shiny day
A day in the sun
A ray of sunshine
A sip of summer
A sizzling summer
A slice of summer
A summer place
A summer to remember
A sweet taste of summer
A taste of summer
Ain't no cure for the summertime blues
At the pool
Bahama breezes
Baked in the sun
Basking in the sunshine
Bathing beauty
Beachy keen
Beat the heat
Beyond the sea
California dreaming
Catch a wave
Catching rays
Cool by the pool
Cool fun in the hot sun
Dancing on the sand
Days of summer
Delight in the joys of summer
Desert heat
Dive into summer
Dog days of summer
Dreaming of summer
Endless summer
Feel the burn
Feeling hot! Hot! Hot!
Fire up the grill
Firefly summer
Fun in the sand
Fun in the sun
Get set to get wet
Girls just want to have sun
Going for a swim
Good day sunshine
Gotta wear shades
Havin' a heat wave
Hello sunshine
Here comes the sun
Hot fun in the summer time
Hot summer nights
Hot, hot, hot
I know what you did last summer
I'm gonna let it shine
I'm walking on sunshine
In the good old summertime
It's a dry heat
It's a sun shiny day
June bug
Just add water
Just another day to relax
Keeping cool
Lazy days of summer
Lazy summer daze
Let the sun shine in
Let's sail away
Lickin' the heat
Life's a beach
Little mermaid
Little miss sunshine
Lounging by the pool
Made in the shade
Makin' a splash
Makin' waves
May the sunshine always find you
Ocean bliss
One fine day
Playing in the sand
Pool boy
Pool party
Pooling around
Poolside
Popsicle weather
Ray Of sunshine
Rise and shine
S is for summer
School's out for summer
Seasons in the sun
Short sleeves and bare feet
Signs of summer
Sink or swim
Sizzlin'
Slice of summer
Sliding into summer
Slippery when wet
Soak up the sun
Some like it hot
Stayin' cool in the pool
Summer breeze
Summer days
Summer dreams
Summer fun
Summer in paradise
Summer in the city
Summer nights
Summer secrets
Summertime
Summertime blues
Sun dried
Sun kissed
Sun worshipers
Sunny days
Sunny side up
Sun-sational
Sweet summertime
Taste of summer
The boys Of summer
The dog days of summer
The heat is on
Too hot to handle
Tropical breezes
Tryin' to keep cool
Walking on sunshine
We're having a heat wave
Wet 'n wild
You are my sunshine
You are the sunshine of my life