Sign-ups for this swap are closed.
It's time to branch out from postcard swaps, and start exchanging other things, too. This is my first attempt at a swap for collage goodies. It will be open to just 10 people on the good swapper's list. Please be patient if you did not receive an invitation to join this swap, or if it's already full when you get here. If this first swap goes well, I hope to do another one that's open to everyone.
Please note: this swap is limited to those with mailing addresses in the United States only.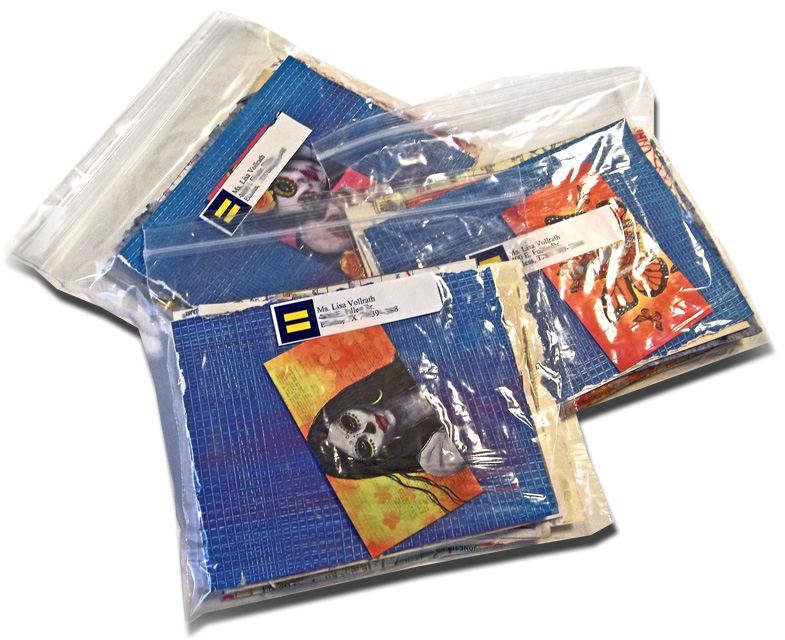 What We're Swapping
This swap is for flat paper items only. To ensure that everyone has a positive experience, and receives relatively the same amount of stuff in their return packages, I've put together a list of acceptable collage materials and ephemera for this swap, as well as one of items to avoid. Please review this information carefully before you sign up:
Acceptable Materials
This swap is for flat collage papers and ephemera only, including the following:
Hand stamped, handmade, or hand painted papers.
Large rubber stamped images.
Foreign text pages.
Map pages.
Sheet music pages.
Old postage stamps.
Vintage labels.
Vintage paper ephemera.
Patterned paper napkins.
Large or intricate punched paper shapes.
Fun and interesting paper items.
Laser printed images.
Unacceptable Materials
Please do not include any of the following in your swap bags:
Dimensional embellishments.
Ribbons and fibers.
Stickers, scrapbook papers, or other commercially made paper-crafting items.
English dictionary pages. Sorry, but almost everyone has these.
Solid color card stock or paper.
Tags.
Magazine images.
Inkjet printed materials.
Anything that's not paper, or made of paper.
Anything that's not flat.
Use your common sense when filling your bags. If it's easy to find, or can be purchased at any craft or big box store, we all probably have it already. Please don't use this as an excuse to pass on ugly, boring, or useless materials. Look at this as an opportunity to exchange paper goodies you like, but have, or have made, more of than you need.
For example:
I like to buy pretty patterned paper napkins at the party store. They come in packs of a dozen, but I really only need three or four of each design. I will happily include some of those extras in my swap bags.
I have access to books written in several foreign languages, and probably have more than I'll ever use. Some pages from those books would be good to include in a swap bag.
How It Works
Send me one 6x9 inch envelope containing the following:
THREE sandwich-sized ziploc bags containing collage materials. Each bag should contain 15-20 pieces or layers. Please review the list of acceptable items, and watch the video to learn how to pack them.
ONE address label with your mailing address on it.
THREE dollars for postage.
Swap packages must arrive before May 27th, 2017. Packages that arrive after that date will be returned to the sender, unswapped.
Once I receive all the packages, I'll swap the bags of goodies out, put them into the envelope you've sent me, and mail it back to you.
How To Package Your Items
I made a quick video, showing how to package your items for this swap:
Packages Received
I have received swap packages from the following people:
Cindy Trobaugh
Valerie Edwards
Amy O'Brien
Lori Northon
Margaret Richardson
Mary Pendergrass
Janet Cranston
Kristin Berg
Louise Foster
Questions & Answers
Do I mail to one person, or many people?
All three of your bags are mailed to me in one envelope, and I'll mail three new ones back to you in the same envelope you send me. The mailing info is in the welcome message you'll receive after you request a spot, and are accepted into the swap.
Is this swap US only?
Yes. Sorry, but I'm not accepting participants who live outside the United States.
Where do I send my swap package?
That information is in the welcome email, sent out to approved participants. Do not post comments on this page asking for the mailing address, or try to obtain it through other means. I've had a couple of people try to weasel their way into swaps by snagging my mailing address elsewhere. Don't do it! Your package will be returned to you, unswapped, and your name with go on my bad swappers list, making you ineligible to swap at Mixed Media Club again.