Do you ever sit down to work in your art journal, and lack the spark to get you going? Here's a list of prompts that are all about you:
The year I was born.
My favorite color.
My favorite place in the whole world.
My favorite animal.
My favorite words.
My favorite foods.
My favorite quote.
My favorite song.
My favorite childhood memory.
My favorite season.
My favorite artist.
My idea of a perfect day.
My pet peeves.
The 10 (or 20) best things about me.
The thing that makes me happiest.
The thing that makes me saddest.
The thing(s) people don't know about me.
The 10 (or 20) things that stress me out.
The things I'm best at.
My worst habit.
The view from my window.
My daily uniform.
My role model.
My dream for the future.
My biggest virtue.
What I overheard today.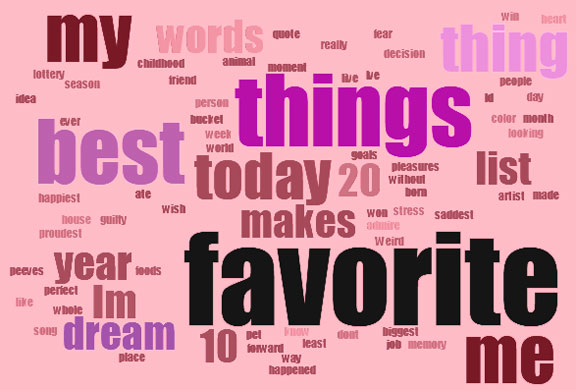 My favorite sound.
What I'm looking forward to.
My goals for today (or this week, month or year).
My least favorite words.
My guilty pleasures.
The way to win my heart.
What I ate today.
My biggest fear.
My proudest moment.
Weird things that I like.
My bucket list.
The things I cannot live without.
My wish list.
My best friend.
The best decision I've ever made.
The person I most admire.
What I'd do if I won the lottery.
My dream job.
The best thing that happened to me today.
My dream house.