Sign ups for this swap are now closed.
After a short break in postcard swapping, I thought something light and fun was in order. Let's make postcards that celebrate the colors of spring!
Think flowers and birds and butterflies, and the joys of spring. Design something happy and colorful to send through the mail.
Remember to read What is a Postcard? first, to ensure that what you design is acceptable to the post office, and will arrive at its destination in good shape.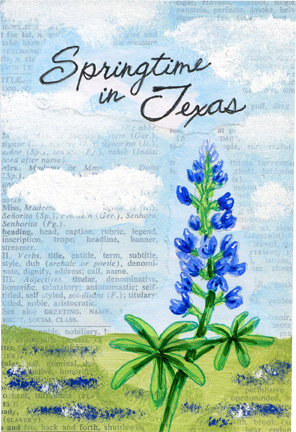 Send me an envelope containing the following:
THREE handmade postcards with your original, FLAT mixed media art on the front, and a little message on the left side of the back. Before making your postcards, you should read What is a Postcard?, to be sure we're all on the same page.
THREE small address labels with your mailing address on them.
THREE First Class US stamps, NOT attached to the postcards,
OR $3 via PayPal if you're in Canada,
OR $6 via PayPal if anywhere else in the world.
Swap packages and payments must arrive before May 1st, 2016. Packages that arrive after that date will be returned to the sender, unswapped.
Once I receive all the postcards, I'll swap them out, put your address labels and stamps on them, and send them to you in the mail. Assuming the Postal Gods are kind, you will receive three postally used postcards with messages on them in the mail.
How To Request a Spot
Sign ups for this swap are closed.
Before you consider doing a swap at Mixed Media Club, you should read How To Be a Good Swapper, and decide whether this is the right place for you to play.
Then, fill out and send the form at right (NOT the tab on the left side), and WAIT. Don't email me, or leave comments, asking if you've secured a spot! I will look through the applications once sign ups have closed, and approve those who are in good standing. Priority will be given to applications from my Patreon patrons, and those who have already successfully completed a swap at Mixed Media Club.
Once you have been accepted, you will receive a welcome email that includes more information, including the mailing address and PayPal address. Your name will also be added to an email list that will exist for the duration of this project, which will allow me to send you any updates, and reminders as the deadline for mailing nears.
Sign ups for this swap will close on April 1st, or when I can approve 25 30 participants, whichever comes first.
If you do not receive a welcome message by April 1st, you have not been accepted into this swap. Please do not obtain the mailing address from elsewhere, and send me postcards if you are not an approved participant. I will send them back to you, unswapped!
Swap Packages Received
I've received swap packages from the following participants:
4/1 - Cindy Trobaugh
4/2 - Esta Berman, Susan Adamek
4/8 - Caroline Shervill, Robin Krieger
4/9 - Corinne Stubson
4/11 - Nancy Linkewitz, Beth Laverty
4/12 - Any O'Brien
4/14 - LA Smith-Buxton
4/18 - Julia Simonello, Mary Ann Gross
4/22 - Julia Gronroos, Dena Bliss
4/25 - Delores Rami, Mary Stang, Cynthia Baroni, Shawn Riley, Angela Zacharek, Janet Gray, Valerie Thomas, Barbara Housner, Chelsea Willis, Deb Fischer
4/27 - Amy Jo Garner
4/28 - Colleen Miller, K.P. Berg, Dayle Persons, Debbie Fernandes, Gwen Deighton, Sandi Mueller
4/30 - Kara Deschler
Questions & Answers
Do I mail to one person, or many people?
All three of your postcards are mailed to me in one envelope, and I'll remail them individually, using stamps and mailing labels. The mailing info is in the welcome message you'll receive after you request a spot, and are accepted into the swap.
Why do I have to send you First Class stamps instead of postcard stamps?
Because most handmade postcards are too thick to be sent using postcard stamps.
Is this swap US only?
NO! This swap is open to anyone, no matter where you are in the world.
Why do I have to pay so much if I don't live in the US?
Because mailing postcards to from where I am to wherever you are is that expensive.
Where do I send the PayPal payment?
That information is in the welcome email, sent out to approved participants.
Where do I send the postcards?
That information is in the welcome email, sent out to approved participants. Do not post comments on this page asking for the mailing address, or try to obtain it through other means!
I signed up. Why didn't I receive the swap's welcome email?
Only people who use the correct sign up form (NOT the tab on the side, but the form embedded in this page) and are accepted to swap will receive the email. If you didn't receive it, you either used the wrong sign up form, or were not accepted this time. Please do not leave comments or send emails asking if you're in the swap, or why you weren't approved. They will be deleted, unanswered.
Should I put my name, or my return address, on the left side of the postcard?
You can put whatever information you like on the message side of the back. If you want to include your name, that's fine. If you want to include your return address, make sure it's small, so it won't be confused with the mailing address I add to the right side, before I mail it out.
Do all my postcards have to be the same design?
There's always at least one person who asks this. It doesn't matter whether your postcards are all the same design, or all different. What matters is that they're postcards, and flat.
Can I use watercolor paper to make my postcards?
Yep. That's what I use to make many of mine. You can also use multiple layers of index cards (I glue two together, art it up, and then glue a third to the back when I'm done), old cereal boxes, or chipboard. Make sure whatever you use is sturdy enough to go through the mail, but not too thick.
Can I embellish my postcards with ribbon, yarn, buttons, or other dimensional items?
NO. This is not a card swap. It's for postcards. Postcards are FLAT. Your postcards must be flat enough to be sent through the postal machines as postcards. If your postcards are not flat, they will be returned to you, unswapped.
Can I send my postcards in individual cello envelopes?
NO. This swap is for postcards to be mailed as postcards. It is not for postcards to be mailed in envelopes of any kind. If you send me postcards in individual cello (or any other type) envelopes, I will either remove them, or, if they cannot be mailed without the envelope, return them to you unswapped. Save us both a headache, and make FLAT postcards that can be mailed as postcards!
What should the back of my postcard look like?