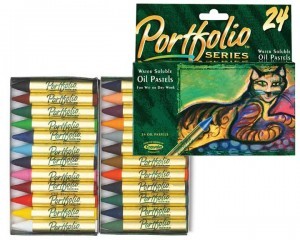 When I was in college, I took a class that was a sort of crash course in media. For three months, my subject was a bell pepper. I drew it in pencil, in charcoal and in pen and ink. I painted it in acrylics, watercolors, and gouache. I rendered that bell pepper in colored pencils, in colored India inks, and in solvent-based markers. I did bell peppers in oil pastels, chalk pastels, and conte pencils. By the end of that three months, I'd spent a fortune in art supplies, and knew the basics of using all of them. I haven't eaten a bell pepper since.
Over the years, I've continued to try new media whenever I have the opportunity. One of the things I enjoy most is finding inexpensive tools that work well, to add to my usual assortment of mixed-media tools. It's good to change things up, and throw something new into the mix every so often.

Soft & Blendable
About four years ago, someone in one of my online art groups mentioned Portfolio Water Soluble Oil Pastels, and my ears perked up. Water soluble oil pastels? That sounds like something sort of impossible, doesn't it? We all know that oil and water don't mix, so how could water blend an oil pastel?
I ordered a little set of Portfolios, and tried them. They were blendable like traditional oil pastels, and very soft, which I liked very much, because I was struggling with my regular set of pastels that were too hard. I couldn't quite get the hang of the water soluble part, though. I kept lifting the color right off the surface with my brush, rather than turning them into a watercolor. After a couple of tries, I set the Portfolios aside, thinking they probably weren't for me.
da Vinci Inspiration Book
This is a flip-through of one of the books I designed for the da Vinci Inspiration Book class I teach online. The color work in this book is done entirely with Portfolio pastels.
As Traditional Oil Pastels
Two years ago, I took an online art journaling class. The instructor used pastels on one of her pages, so I hauled out my stash of pastel-like supplies: chalk pastels, oil pastels, and the Porfolio Water Soluble Oil Pastels. Because I still liked the softness of the Portfolios, I used them as traditional pastels, blending them with my finger. I did some decent pages with them, and that made me think I should keep working with them.
So, I did a lot more art journal pages with them. In fact, I ended up doing an entire book for The Sketchbook Project with them.
My Book From the 2012 Sketchbook Project
(Click thumbnail to view full-size)

These images show some of the pages I did in my book for The Sketchbook Project. They're worked in mixed-media, with most of the color work done in Portfolio Water Soluble Oil Pastels.
Used With Acrylic Mediums
At some point, I mentioned my struggle with using Portfolio pastels to another artist, and admitted that I really wasn't using water with them. She said that she never used water with hers either, but she did use acrylic mediums with them.
Acrylic mediums? That changed everything.
I started doing some pieces with the pastels that were a little less blended with my fingers, and added brush work with liquid matte medium. Eventually, I was getting the more painterly look from them I desired, by exploiting their water soluble aspects without using water. The effect was lovely, easy and fun. I finally loved my water soluble pastels. Now, they're my go-to media for most of my art journaling.
Just 10 Pages Journal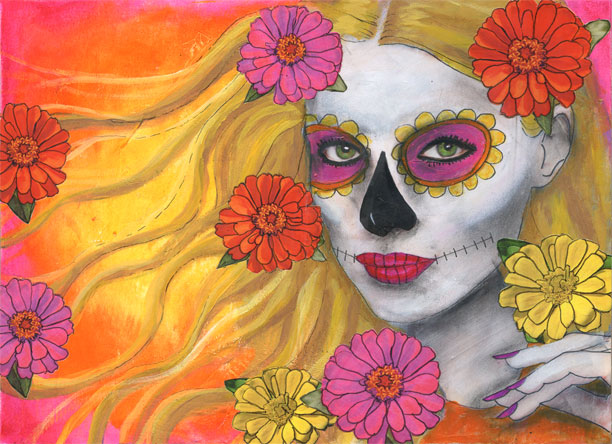 The page shown above is from the Just 10 Pages journal project. Most of the color work is done with Portfolio pastels. The video below shows a fast-motion capture of how I created these pages.
Inexpensive & Portable
A big plus to using Portfolio Water Soluble Oil Pastels is that they are relatively inexpensive. They only come in sets, so I buy the set of 24, which is packaged in a box that folds in half, and is very portable. It tucks into my traveling art bag nicely.