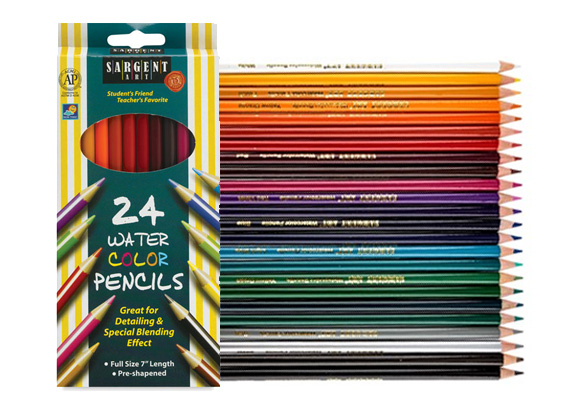 You've probably played with watercolor pencils at one point or another. There are a lot of different brands on the market, and they have a wide range of properties. Like any art pencil, watercolor pencils come in varying degrees of hardness, and very often, you have to test out one or two brands to figure out which ones are hard, and which are soft.
I started at the low end when I purchased mine, and bought a set of Sargent pencils at my local craft store. I think this set of 24 cost less than $10. This particular brand of pencil is quite hard, and the color range is a little limited, but the price was right for playing with a new medium.
What can you do with watercolor pencils?
You can color with them on dry paper just like you can with any colored pencil. Because this brand was so hard, I wasn't able to get anything really dark by just coloring. On the plus side, they held up well to pressure, and didn't crumble when I colored really hard.
You can use a paintbrush or waterbrush to paint over the places you've colored with the pencils. The color moves easily, but doesn't lift off completely, so it's easy to go from pencil coloring to water coloring with just a few swipes of the brush. I find brushing over pencils much easier to blend and contain than using traditional watercolors.
You can wet your paper, then color over it. Because these pencils were so hard, I only had very poor results with this technique. A softer watercolor pencil might do better.
You can dip your pencil in water, and use it as a brush to apply color. I used this technique to get the really dark tones I couldn't achieve with a dry pencil. The water softens the pencil lead, but only a tiny bit of it at a time. This technique does eat up the pencils faster, because you're essentially laying down a thicker coat of color, but it did a great job of turning a very washed out coloring job into something that had more pop.
Alternately, you can use a waterbrush directly on the tip of the pencil to pick up pigment, and apply it to your surface.
You can spray water over coloring or writing done with the pencils, and let it bleed a bit.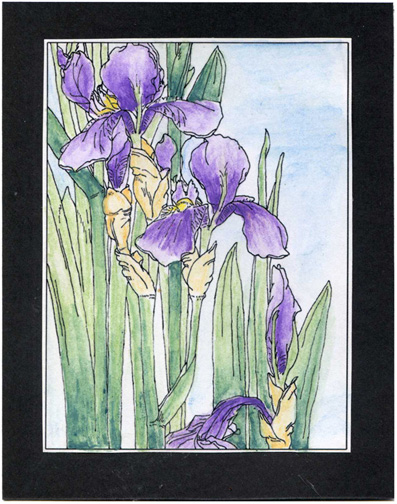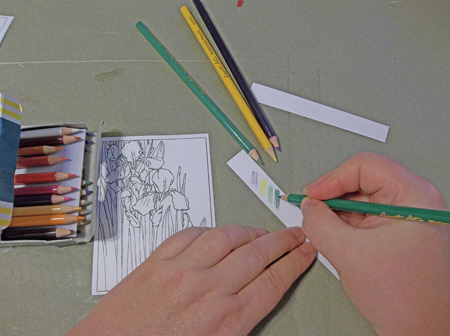 I find it easiest to select three or four pencils, and test them on a scrap of paper before I dive in. Seeing what they look like scribbled, and then wet, can help when planning how to approach coloring.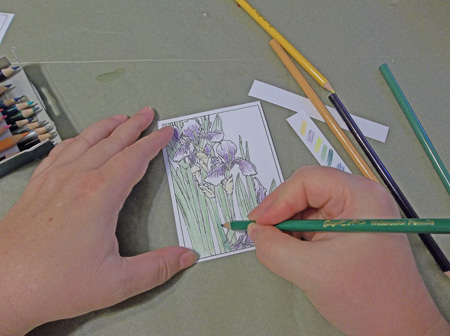 I started by using the dry pencils on dry paper, coloring in the various sections. I colored harder towards the bases of flowers and stems, tapering off to nothing at the tips, knowing I'd spread the color with a brush.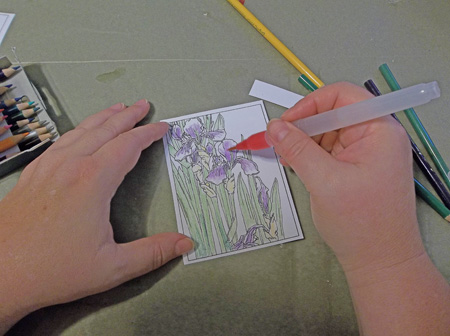 Next, I used a waterbrush to gently move a little color outward. I worked on one color at a time, first creating pale purple edges on the irises, then greener tips on the leaves. I let the drawing sit for a few minutes to let some of the water dry.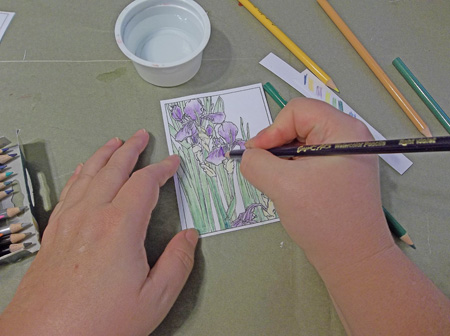 To add really dark darks, I dipped the tip of my pencils into a cup of water, and stroked on a thicker layer of color. I did this mostly at the bases, or in areas I wanted to recede. I used the waterbrush again to blend the color into the previous layer.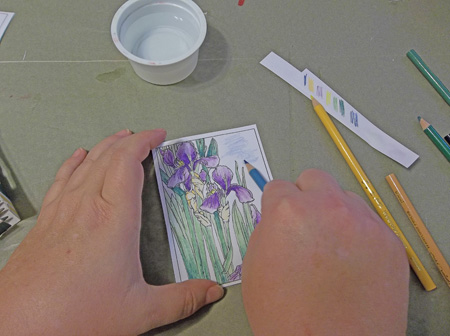 The background looked a little stark, so I used the flat side of a blue pencil to add very pale strokes of color, then blended them across the paper to create a sort of pale sky effect. When the paper dried, I applied glue stick to the back, and use a brayer to flatten it onto cardstock.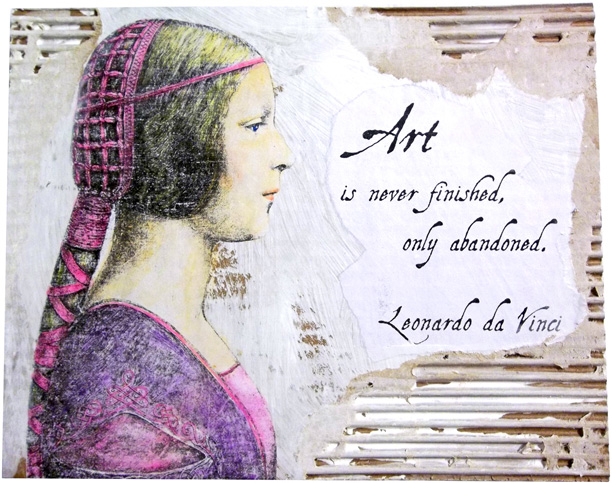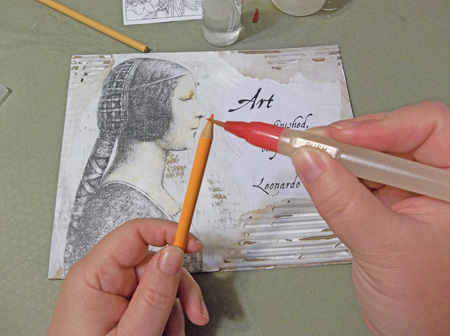 To create the pale skin tones, I used a waterbrush to pick up pigment from the tip of a pale orange and pale yellow pencil, and blended them with water on the figure.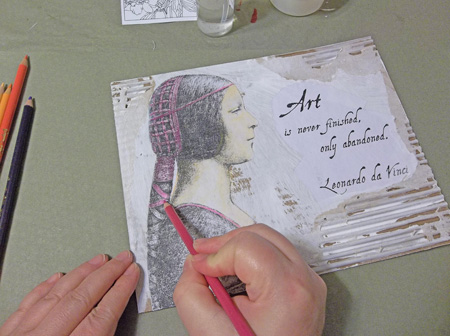 To get the color on the hair, headpiece and dress, I colored with pencils on the dry surface. It's really easy to add very fine details with pencils.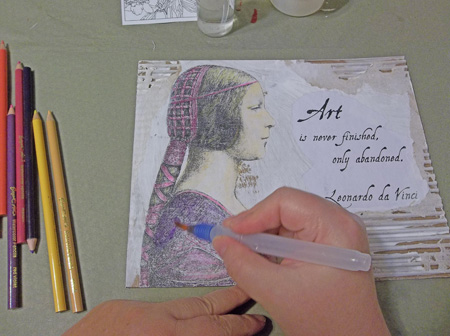 I blended and shaded using a water brush.

This article was originally published in the July 2012 issue of The Monthly Muse.