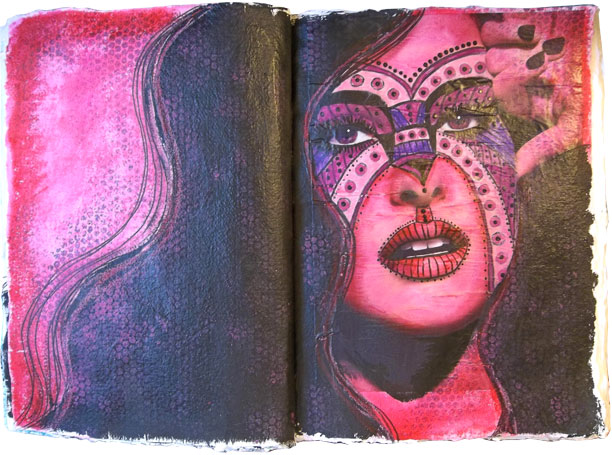 Art Journal: A Definition
An art journal, or artist's journal, is a book kept by an artist as a visual, and sometimes verbal, record of her thoughts and ideas.
Art journals generally combine visual journaling and writing, to create finished pages. Every imaginable style, media and technique is used by art journalists. When it comes to the types of work represented in artist journals, there really aren't any rules, and each book is as unique as the artist who created it.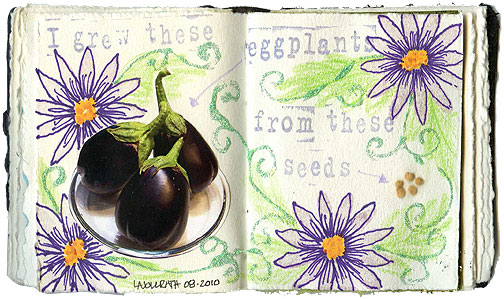 Why Do Artists Journal?
Each artist has her own reason for keeping an art journal. Some, like me, have two or three journals going at any given time, each with its own use. Some examples:
An art journal might be used to try new techniques, or new materials. The book might contain written descriptions on each page of what was used to create them, and any thoughts that might help recreate or improve on what was done.
A book might be used to practice working larger, or smaller, in preparation for a new series of works outside the journal. If an artist is used to working very large, and is asked to do pieces that are small, it's often easier to make the transition by practicing in an art journal, rather than diving in to more expensive surfaces.
Some artists use their art journals as diaries, to record what happened to them that day, week, or month. They also might use a journal to work through any emotional, medical, or family issues they're having.
Your reasons for keeping an art journal may cover some, all, or none of these examples. Some people art journal simply because they enjoy the process, and want a place to create.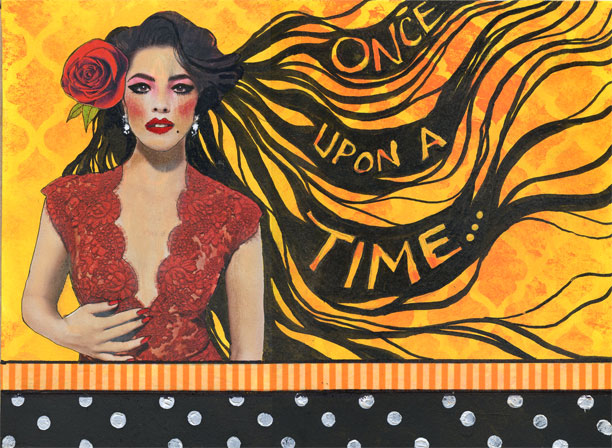 What Materials Are Required to Start an Art Journal?
Like the reasons for keeping one, the materials required to start an art journal are unique to each artist. There are two basic items that you might find are useful, no matter how you might approach your journal:
A book. There are many types of books that are popular with art journalists. People who draw with pencil or ink, or work in watercolor often gravitate towards journals made by Moleskine, which makes a variety of styles of books filled with paper suitable for these media. Mixed-media artists might choose larger books filled with heavier papers, like those put out by Strathmore or Canson. These books might be hardcover, or spiral bound, or the artist might even choose to work on loose papers, which are bound together after they're finished. I bind my own books, using Canson 140 lb. XL watercolor papers.
Permanent pens. Almost every artist has their own favorite permanent pens. Regardless of which media you're using, a black pen that can be used over and under your work comes in handy. Some people like Sharpies, while others choose fine art pens by Pitt or Sakura. My current favorites are large black chisel tip markers from Sharpie, and Copic Multiliner pens with .05, .07, and brush tips.
Beyond these two items, you should start with the supplies you already have, or already feel comfortable with. If you work in watercolors, try painting in your art journal. If you like to draw, pencils or pens might be your choice.
I work in mixed media, and many of my own pages shown in this article are worked with gesso, acrylic paints, magazine pages, and water soluble pastels.
This video shows how I created the first set of pages in my Just 10 Pages journal. Just 10 Pages is a collaborative journal project, which asks artists to fill handmade books made of ten pages of art paper with their original work, and then return them, to be loaned out to other artists.
Other Collaborative Art Journal Projects
There have been many collaborative art journal projects organized online. Some are ongoing, while others have ended. Here's where to find some of my favorites:
1000 Journals was a project that released 1000 art journals into the wild, to be filled and returned to the project's founder. The project has spawned a book, and a documentary. Examples of the books that returned home are posted on the site.
The Sketchbook Project is an annual event that asks artist to fill a small Moleskine book with their work, and then return it to the project's library. Each year, the finished books from that year go out on tour around the United States.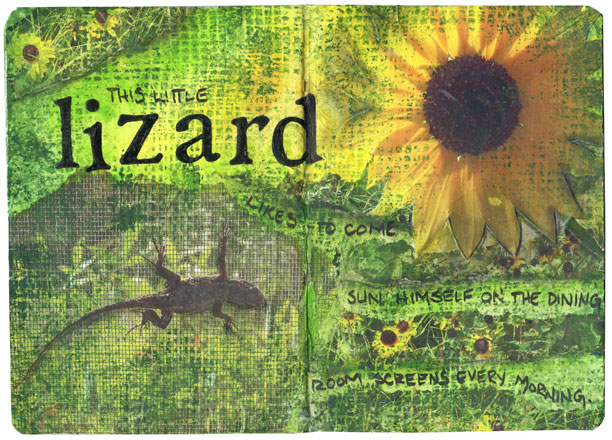 Artist Journal Galleries
Many artists post some or all of their art journal pages online. These are a few of my favorites:
Book is a collaborative journal exhibition by four artists from both sides of the Atlantic.
Teesha Moore's web site is the Nirvana of art journal galleries. Teesha has been journaling and teaching for many years, and has a wealth of information posted on her site about the materials she uses, and how she creates.
Tracy Moore is Teesha's husband, and an artist in his own right. He creates wonderfully offbeat and unusual journal pages.
Karen Michel has examples of her artist journals, created using all sorts of mixed-media techniques, including altered photos, posted on her site. Karen also teaches and writes books about art journaling.
Tracy Bunkers has a large number of photos of her mixed-media journal pages worked over the existing pages in printed books posted on Flickr.
Glenn Moust has a large number of his collage books, which are a cross between gluebooks and art journals, archived on his site.
I also have a growing collection of my own art journal work posted on my web site.