Looking for some ideas for your fall projects? Here's a list of words, quotes and expressions that might inspire your next colorful idea: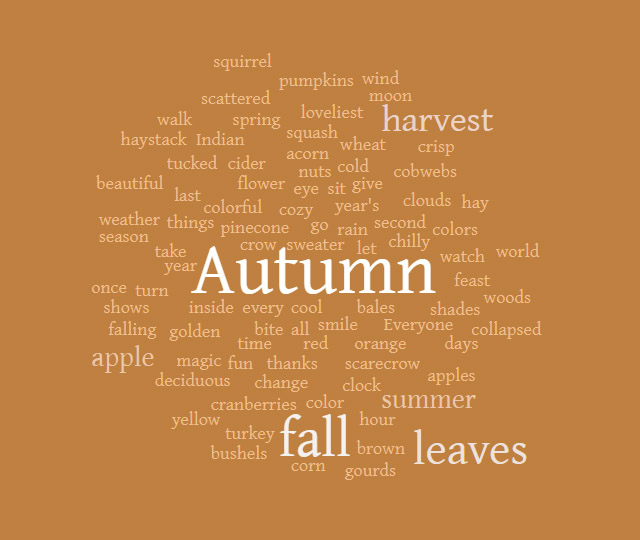 Autumn is the bite of the harvest apple. -Christina Petrowsky
Autumn is a second spring, where every leaf's a flower. -Albert Camus
Autumn is last year's loveliest smile. -William Cullen Bryant
If a year was tucked inside of a clock, then autumn would be the magic hour. -Victoria Erickson
And all at once, summer collapsed into fall. -Oscar Wilde
Everyone must take time to sit and watch the leaves turn. -Elizabeth Lawrence
Autumn shows us how beautiful it is to let things go.
acorn
apple of my eye
apples
autumn
brown
bushels of fun
chilly
cider
clouds
cobwebs
cold
color my world
colorful
cool
corn
cozy
cranberries
crisp
crow
deciduous
fall
fall colors
fall into fall
falling leaves
feast
give thanks
golden days
gourds
harvest
harvest moon
hay bales
haystack
Indian summer
leaves
nuts
orange
pinecone
pumpkins
rain
red
scarecrow
scattered leaves
season of change
shades of autumn
squash
squirrel
sweater weather
turkey
walk in the woods
wheat
wind
yellow