Looking for some inspiration for your winter projects? Here's a list of words, quotes and expressions that might inspire your next snowy idea: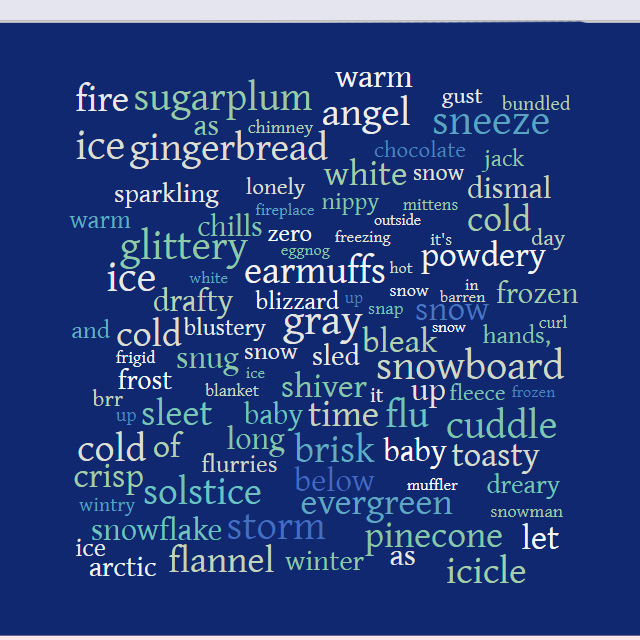 Nothing burns like the cold. -George R.R. Martin
Those who sing through the summer must dance in the winter. -Italian proverb
The light of winter is the poetry of patience.
Kindness is like snow: it beautifies everything it covers. – Kahil Gibran
If winter comes, can spring be far behind? – Percy Bysshe Shelley
What good is the warmth of summer, without the cold of winter to give it sweetness. – John Steinbeck
When snow falls, nature listens.
arctic
baby it's cold outside
barren
below zero
bitter cold
blanket of snow
bleak
blizzard
blustery
brisk
brr
bundled up
chills
chilly
chimney
cold as ice
cold hands, warm hearts
cold snap
comforter
crisp
cuddle up
curl up
dismal
drafty
dreary
duvet
earmuffs
eggnog
enchanted
evergreen
fire
fireplace
flannel
fleece
flu
flurries
fog
freezing
frigid
frostbite
frozen
frozen in time
gingerbread
glacier
glittery
gloves
gray
gust
harsh
hibernating
hoodie
hot chocolate
ice
ice ice baby
icicle
isolated
jack frost
let it snow
lonely
long
melting
mittens
muffler
nippy
pinecone
polar
powdery
shiver
skate
sled
sleet
slippery
slush
sneeze
snow
snow angel
snow day
snowboard
snowflake
snowman
snug and warm
solstice
sparkling
storm
sugarplum
sweater
toasty
wet
white
white as snow
windy
winter
winter wonderland
wintry