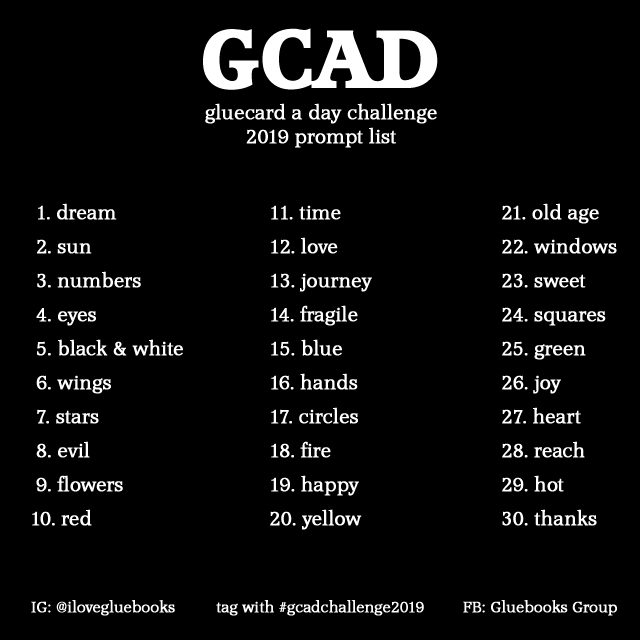 What is the GCAD Challenge?
Your mission: make 30 gluecards in 30 days. Make one gluecard every day for the month of June.
What is a gluecard?
A gluecard is an index card with stuff glued to it. Think of it as a mini gluebook page, or a magazine collage postcard.
What size is a gluecard?
Whatever size you want. Usually, they're postcard sized, so 4×6 inches. Or index card sized, which is 3×5 inches. For this challenge, pick a size. Postcard, index card, trading card, Rolodex card, whatever. Or pick a size today, and another one tomorrow, until you settle on one you like. There are no wrong sizes for this challenge.
Do I have to use an index card?
Nope. Use whatever you want. Carstock. Chipboard. Pieces cut from cereal boxes. Those annoying subscription cards that fall out of magazines. You do you.
Can I do a gluebook page instead?
Yes! Great idea. Glad you thought of it. Ask me to show you my 31 day daily gluebook sometime…
Do I have to follow the prompts?
Nope. Prompts are just there to help light the fire. If today's prompt doesn't spark anything, do whatever you like.
Do I have to do one every day?
Daily creation challenges are generally designed to help you set aside a few minutes every day to make something. Try to find time every day. That said, hello, real life. If you miss a day, skip that day's prompt, or do two of them tomorrow, or whatever works. Just don't beat yourself up over missing one day, and don't use it as an excuse to quit altogether. Try again tomorrow. You've got this!
On Instagram: @ilovegluebooks
Tag photos with #gcadchallenge2019

On FB: Join the Gluebooks Group
Visit the GCAD 2019 event page

Gluebooks are now on Reddit, as well.